Listen to retirement tips on the radio!
Tune in to "Financial Forum," where Chris discusses issues relating to retirement and financial planning.
Listen in!
8:30 a.m. and noon Saturdays and 10 a.m. Sundays on WILK 103.1 FM
7:30 a.m. Sundays on 94.3 FM The Talker
Watch Chris on TV!
Every week, Chris Scalese shares important tips and strategies for helping you work toward a more confident retirement.
Tune into WBRE-28 Eyewitness News:
During the 11 a.m. newscast Mondays, Wednesdays and Fridays
11:30 a.m. Saturdays
Tune into WYOU:
7 p.m. Tuesdays and Thursdays
Read Chris' debut book, "Retirement is a Marathon not a Sprint"!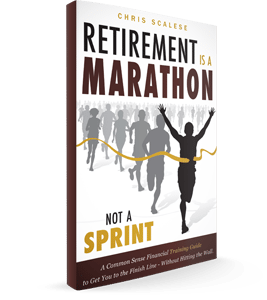 Preparing for retirement is one of the most complex challenges people face in their lifetimes. And in these days of information overload, it can be confusing to know what resources to trust. In "Retirement is a Marathon not a Sprint," Chris Scalese cuts through the noise and outlines what he has learned from over 20 years of helping individuals prepare for comfortable retirements.
You'll learn:
The fundamentals of retirement planning, explained in clear, easy-to-follow language
How to reach the retirement finish line without worrying about "hitting the wall"
---
Read Chris' latest book, "The Race is Over; Retirement Beyond the Finish Line"!
Endurance, preparation and time to get it right: Three qualifiers for making it to the finish line of a marathon and when entering retirement. But what about after you've crossed the finish line? In this, the companion book to "Retirement Is a Marathon, Not a Sprint," Chris Scalese outlines what happens after you've broken the tape.

You'll learn:
Ideas for funding long-term care and health care costs through reliving client anecdotes
Simple ways for making your financial picture more tax efficient with less market exposure
Ready to Take The Next Step?
For more information about any of the products and services listed here, schedule a meeting today.